How to Avoid Dangerous Relationship Mistakes by Unlocking the Mysteries of Men
**Are you ready to finally MANifest the relationship you have always wanted?
If you are…..
Tired of Trying To Figure Men Out…
Fed Up With Attracting The Wrong Men…
Sick of Bad Dates and Painful Breakups…
Ready for Lasting Love…
Then, this program is calling your name!
Would you like to be in a meaningful and fulfilling relationship that lasts?
Would you like to have a proven method for communication that bonds your man to you and gives you a deep level of connectedness?
Would you like to understand the inner-workings of your man's heart and mind, so that no matter what comes up you can face any situation with confidence and peace of mind?
If you answered "YES" to any of these questions then you are going to love the Cracking The Man Code program!
"This program was absolutely incredible! I thought I knew it all. I've read all the books, and to learn NEW things about the connections and attraction between men and women was such an EMPOWERING EXPERIENCE!"
~ Rene Turpin, Cabo San Lucas, MX
If you've ever been mystified by why men do the things they do and baffled by their decisions, you are not alone. Trying to figure men out can be exhausting. It's tough to build the type kind of connection that leads to lasting love and it's normal to have more questions than answers.
Have you ever asked yourself…
Where can I find the RIGHT guy?
How can I become more approachable, and less intimidating?
How can I get him to open up and talk to me?
Why is he pulling away from me?
Knowledge is power and women who have it are able to avoid dangerous relationship pitfalls while building a deeply connected partnership.
Mat's clients are constantly raving about how his coaching created the shift needed to create a deeply loving relationship. Now it's your turn to manifest the relationship you deserve!
Why should you listen to Mat Boggs?
Mat Boggs M.Ed, is the co-author of the best-selling book, Project Everlasting: Two Bachelors Discover the Secrets of America's Greatest Marriages (Simon & Schuster). He's produced a critically acclaimed documentary film, hosted his own international radio show entitled, The Bachelor Pad: Relationship Secrets From The Man Cave, and is a highly sought after dating and relationship coach. Mat has helped thousands of women understand the hearts and minds of men, and increase the love in their life.
Mat is dedicated to increasing Love in the world one heart at a time. Mat's appeared on dozens of national media venues including: The Today Show, CNN Headline News, The Style Network, Fox News, CNN Showbiz Tonight, ABC Family, Oprah and Friends XM, the Hallmark Channel, and many more.
Cracking The Man Code will not only unveil the INNER MOTIVATIONS of MEN (like what causes a man to naturally open up and connect, or what you can do to ignite attraction in him) but Mat will also give you the critical LOVE INGREDIENTS that men need in order to create a meaningful and fulfilling relationship.
"I attended your program three years ago, and I'm a very good student. I'm pleased to say that I Cracked The Man Code! This October 1st, I will be celebrating my second wedding anniversary! Thank you!"
Kathy Schuler, CA
"Wow! This information constantly had me in a state of ah-ha's! Mat is awesome. He is so gifted in the way he teaches. I am loving this material!"
~ Rebecca Perry, Portland, OR
Dear Smart, Sexy Woman Who's Ready For Love,
After years of coaching women in attracting the love they deserve, I've found one overwhelming pattern. The source most single women look to when trying to figure men out and attract lasting love is… their single girlfriends!
Who we learn from is more important than what we are learning. When it comes to the opposite sex most women spend hours with their girlfriends dissecting their every move without ever figuring them out. Why? Because quite simply women think a whole lot differently than men and you'll never discover the answers you desire by playing detective with your female entourage.
If you want to build attraction and establish the type kind of connection that leads to lasting love, then you have to understand what men truly want, how they fall in love, what builds attraction, what sustains connection, and here's the kicker — it's completely different for him than it is for you!
Our level of awareness (in every area of life, including love and relationships) is ALWAYS a direct reflection of our results. What's your level of awareness? If you want to know what your level of awareness in relationships is, all you have to do is simply look at your results.
Here's the good news! If you want to improve your results, all you have to do is expand your level of awareness. As you increase your awareness, your results will automatically begin to improve.
As you begin to expand your awareness of how men think, what they intrinsically want, what motivates them, your life will never be the same. You'll know how to build attraction, how to create connection, and how to make it last. AND…here's the best part. Once you learn it, you can never unlearn it. You will ALWAYS have this awareness.
"A mind, once expanded by a new idea, never returns to its original dimensions."
~ Oliver Wendell Holmes
If you don't have the relationship you want right now, then you must expand your awareness in order to attract it and receive it.
That's what this program is all about. Cracking The Man Code deep dives inside the hearts and minds of men. This exclusive program is the culmination of over 8 years of research and coaching, and I've put it together in a simple and easy format to give you the insider secrets on what motivates men and why they do the (often confusing) things they do…like going into their "man-cave" and playing Houdini for starters!
This program is life-changing in that it will help you…
Break relationship patterns that don't work
Attract the "high value" guy you want
Create a deep and lasting connection with him so that you both can enjoy a lasting relationship
In This Program You Will Learn:
The 5 things most men look for in a life long partner, and how to shine those qualities so brightly that the guy you want is sure to spot you and instantly put you in the "kind-of-woman-I-want-to-marry" category.
The ONE WORD you can use that will help a man fall in love with you. Most women don't know what this is! When you use this word you will naturally activate a man's emotional connection with you.
The essential questions a man asks himself when deciding if you are the woman he wants to commit to — and how to make sure he answers those questions with a resounding YES!
A proven strategy for opening your man to communication in a way where he feels respected and wants to create a deep connection with you.
The #1 factor that causes men to pull away — and how to reverse it, called "The Law of Elasticity".
The first most dangerous mistake most women make early on that can derail a potentially great relationship — and how you can use emotional pacing to build the connection with you man.
The key to attracting the guy you really want, instead of settling for "just good enough".
How to build lasting attraction with your man that consistently deepens and builds over time.
Five words men hate to hear, and five word they absolutely LOVE to hear that will activate one of their deepest subconscious desires.
Why men have nipples!
And Much More…
"This program was fantastic! I wish I knew more about this when I was first separated and divorced, but at least I am finding out now. Thanks for what you do!"
~ Anita Augesen, New York
"Mat! You have helped me so much that now I'm torn between 2 guys! Will you have a Level II, now that you've attracted the loveS of your life…how to narrow it down?!"
~ Nancy Urena
"I LOVE the Man Code! I was very impressed! It really shed light on a number of things I want to do in my life."
~ Damary Rios, LA, CA
"This program is AMAZING! I've been married four and a half years and there are definitely things that get frustrating, and now that I understand my husband on this level, it will help me communicate better and create a way better relationship!"
~ Jeanie Callen Barat, San Diego, CA
PLUS! With Your Purchase You Will Receive This BONUS!
The MAN-Panel Afterhours: The Secret Things Men Say About Love and Relationships, When You're Not Around. ($47 Value)!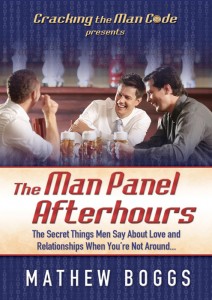 How would you like to be a fly on the wall as a group of men discuss how they really feel about love and relationships?
Well, now you can! The Man-Panel Afterhours is the conversation women rarely get to hear…
I have gathered together three high quality men (in a private location) and asked them the toughest, most revealing questions women want to know on the subjects of love, sex, and relationships. When you purchase the Cracking The Man Code program, you will be given access to download this exclusive digital MP3 audio program!
100% Satisfaction Guarantee
I want to give you every reason to say "YES" to this program, because I know what a difference it will make in your life. That's why I'm removing all of the risk.
I completely stand by my products, because I know how effective these practices are — I've seen them work first hand!
When you invest in yourself with this program, you will have a complete 30-days to go through the entire program. Listen to the audios, watch the videos, and if you are not completely satisfied (for ANY REASON), then simply write my team and ask for a refund. We will remove you from the membership site and give you a complete refund. No hassles. No questions. Simple as that.
Why would I do this? Because I believe this information will help you break relationship patterns that hold love back so that you can enjoy the lasting love you deserve. I want to give you every reason to invest in yourself. I encourage you to action on this risk-free program. You'll be glad you did!
What would it be worth to you to be in the relationship you've always wanted? Are you willing to have your relationship be easy, fun, and fulfilling?
This program will work for anyone (regardless of age or relationship history) because it focuses on the understanding of how we are wired up as men and women, and how to work with our natural attraction triggers. It doesn't matter how old you are, or what your relationship status is, as you enhance your awareness of the opposite sex your ability to connect and build attraction naturally increases.
On the other hand, what is the cost of not doing this program? How long would you have to be single, how many break ups would it take, how many bad dates are you willing to endure before you would invest in learning in your love life?
Here's the best part! Once you receive these insights, you can use them for the rest of your life. They will serve you through the dating process. They will empower you when you're engaged, and these principle will impact and deepen your relationship when you are married!
Here are some of the benefits you'll receive in Cracking The Man Code.
When you put this program to action in your life you'll enjoy…
More confidence because you'll know how to respond to your man in an empowering way.
A deeper connection and feeling of intimacy as your relationship progresses forward.
More fun — Less friction and stress, because you'll be able to head off conflict before it begins.
Being the best version of yourself (instead of a frazzled version that gets scared by his actions.
Here's how the Cracking The Man Code Program works…
When you register for Cracking The Man Code you will get instant access to the entire online program includes both audio and video modules that will support you in creating the relationship you've always wanted. Immediately after signing up you will emailed private login instructions to access your entire Cracking The Man Code course.
This Program Includes…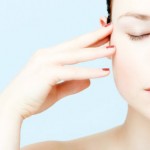 A proven and effective "reverse visioning" guided process to help you get clear on exactly what you want in a relationship, and what's in the way, so you can start attracting the kind of relationship you want now. This is a 45-min audio experience where I lead you through exactly what you want to create for your love life.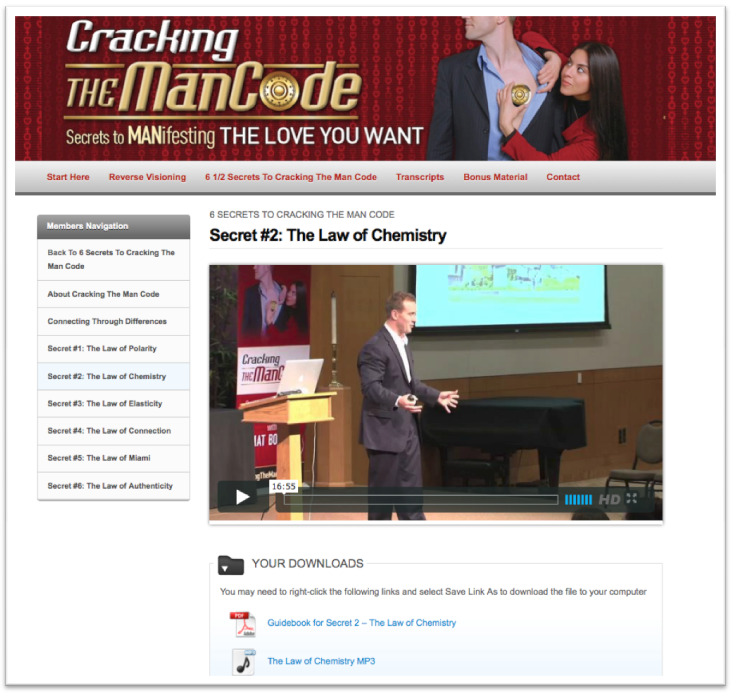 8 video modules that take you through all 6 1/2 secrets to Cracking The Man Code.
When you sign up you will get access to the private members area where you can view these videos. You can go through this entire program at your own pace and come back to these videos as often as you want. You're access privileges will never expire, unless you request a refund.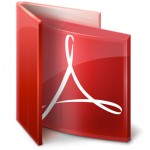 A complete guidebook with high value questions to unlock your own inner-wisdom, as well as the transcripts of the entire program to make highlighting, capturing, and reviewing the insights you gain from this program even easier.
Here's what to do now…Simply click the "Add To Cart" button below, and you will get instant access to the entire Cracking The Man Code program, and you will begin increasing your awareness and ability to connect with men immediately.
The investment for your Risk-Free, Cracking The Man Code program is 147 **LIMITED TIME OFFER** ONLY 97.00!
In this program you will receive…
The Reverse Visioning Process
The Entire Cracking The Man Code Video Program
All 6 1/2 Secrets To Building Attraction and Lasting Connecting
The Man-Panel Afterhours Bonus Program (to get insider secrets to what "real men" want in relationships)
Complete Cracking The Man Code Digital Guidebook
Transcripts of the entire program to make remembering points and highlighting ideas for expanded awareness as easy as possible
and more!
"This program is AMAZING. I had no idea how much I could learn and take away from this. The insights are HUGE. This was a total Ah ha moment for me! I would recommend this to EVERYONE I KNOW! Thank you Mat!"
~ Dianna Browning, Bend, OR.
Have questions? Feel free to contact your program coordinator Lauren Willard at Lauren@mathewboggs.com