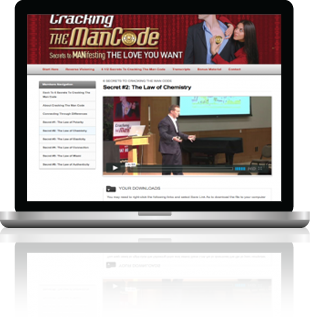 Cracking The Man Code
Online Program
Discover the 6 1/2 Secrets to MANifesting The Love You Deserve
Cracking The Man Code will not only unveil the INNER MOTIVATIONS of MEN (like what causes a man to naturally open up and connect, or what you can do to ignite attraction in him) but Mat will also give you the critical LOVE INGREDIENTS that men need in order to create a meaningful and fulfilling relationship.
"I attended your program three years ago, and I'm a very good student. I'm pleased to say that I Cracked The Man Code! This October 1st, I will be celebrating my second wedding anniversary! Thank you!"
Kathy Schuler, CA
The Magic Feminine Formula
Learn the formula for using feminine energy toattract your life partner!
Are you a single professional woman with an intuitive feeling that you need to use your feminine energy to attract love? Has a man ever told you that you are intimidating? Do you find yourself always taking the lead in the relationship?
If you answered "YES" to any of these questions then you are going to love the Magic Feminine Formula Program! The Magic Feminine Formula program shows you how to master your feminine energy and become a magnet to successful, high quality masculine men who are willing to lead.